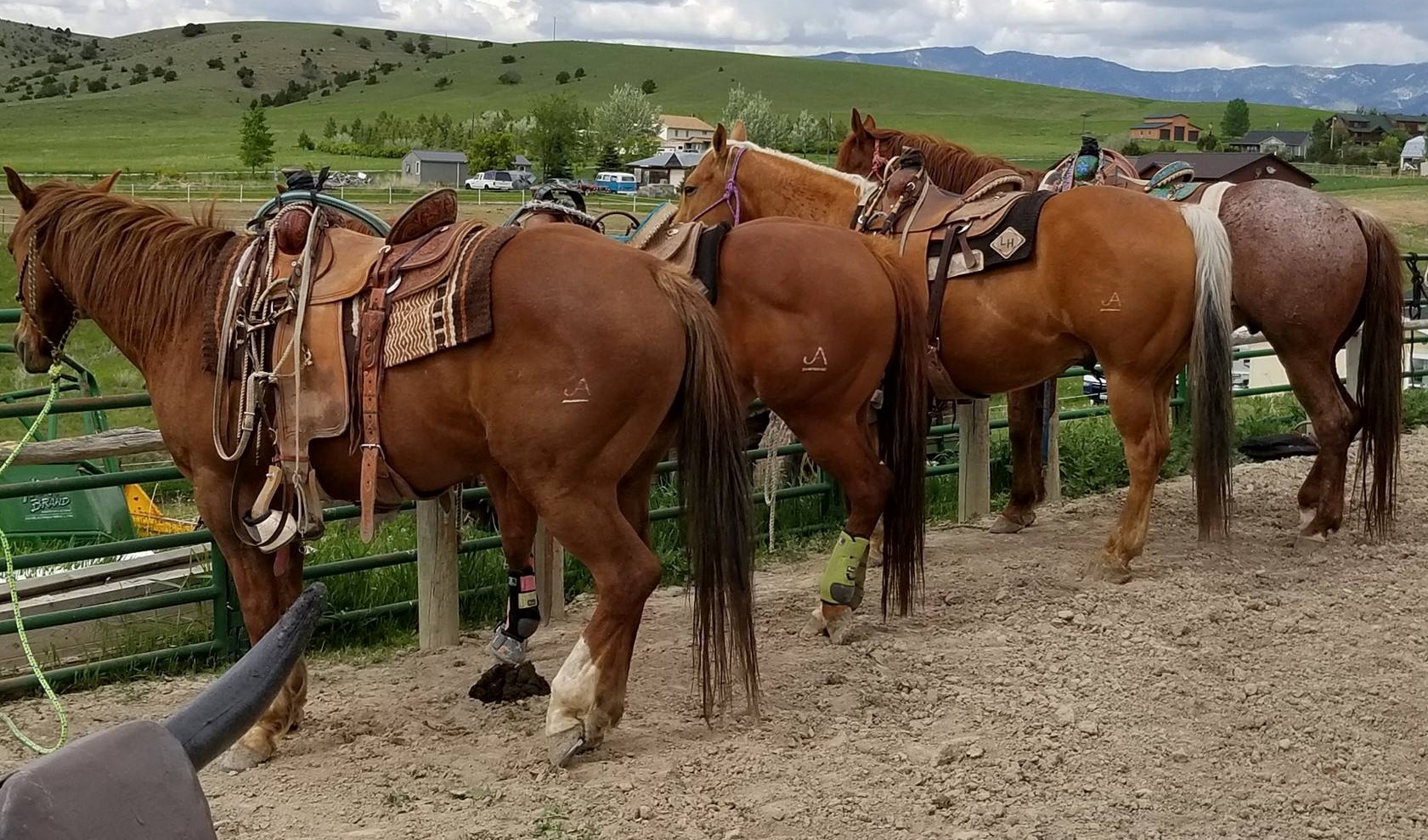 About Us

Horses have always played a big part in our lives. Luke and I were riding in the saddle long before we could walk. At Askin Livestock, our focus is to build our breeding program, sell prospects and solid horses to fit each customer with personal needs. Throughout the year we offer our best quality horses for sale. They will range from weanlings/prospects to solid horses that are ready for the road or ranch.

Luke starts our colt as 2 year olds and puts about 10 to 15 rides on them. We then turn them out to grow up and bring them back into training as 3 year olds. We rope all of our horses feet, sack them out with flags and tarps, and ride them outside gathering cattle. Before we enter our horses into a program or event training, we pride ourselves in having them extremely broke in every way. We then take the horse and start them on the event we think they have the best potential to excel in. These horses definitely get used and are put in all kinds of situations.

When we are not riding our colts at home, we are on the road going to rodeos, ropings, barrel racings, and our oldest child's love-- Dance Competitions. We haul most of our colts where ever we go, so they get the experience of going down the road and seeing new things.

Luke is wonderful at going slow with a colt and not pushing them too fast. He is a farrier here in the Gallatin Valley. Luke competed in high school rodeoed and went to college at Eastern Wyoming College and qualified for the College National Finals his freshman year. He was unable to attend after going through a horrible car crash that landed him in the hospital for months. He now commits his time to starting colts, shoeing horses, hanging out with the family, and going to ropings and ranch rodeos.

I love to finish horses and start them on a event. My grandparents and father have been raising race horses and performance horses for around 80 years. I have taken on the business when my grandparents health started to go bad. I have qualified for the National High School Finals all four years in high school and also qualified for the College National Finals. I graduated from Montana State University completing my Elementary degree with an Early Childhood Minor.I rodeoed for MSU for 4 years on a full-ride scholarship and now rodeo in the summer at amature and Pro rodeos. I am currently a stay at home mom running the ranch and taking our kids to all their extra curricular activities.

We enjoy breeding, raising, and training Quarter Horses that we are proud to have carry our brand. In our breeding program we currently raise Chicks Beduino, Easy Jet, First Down Dash, Dash For Cash, Jet Deck, Three Bars, Jet Smooth, Easily Smashed, Firewater Flit, Frenchmans Guy, Dash Ta Fame, and our favorite Midnight Corona, which is a Mr Jess Perry, Streakin Six, and Corona Cash horse. We have developed a breeding program that combines the best proven bloodlines for speed, athletic ability, and cow.