Our Personal Horses!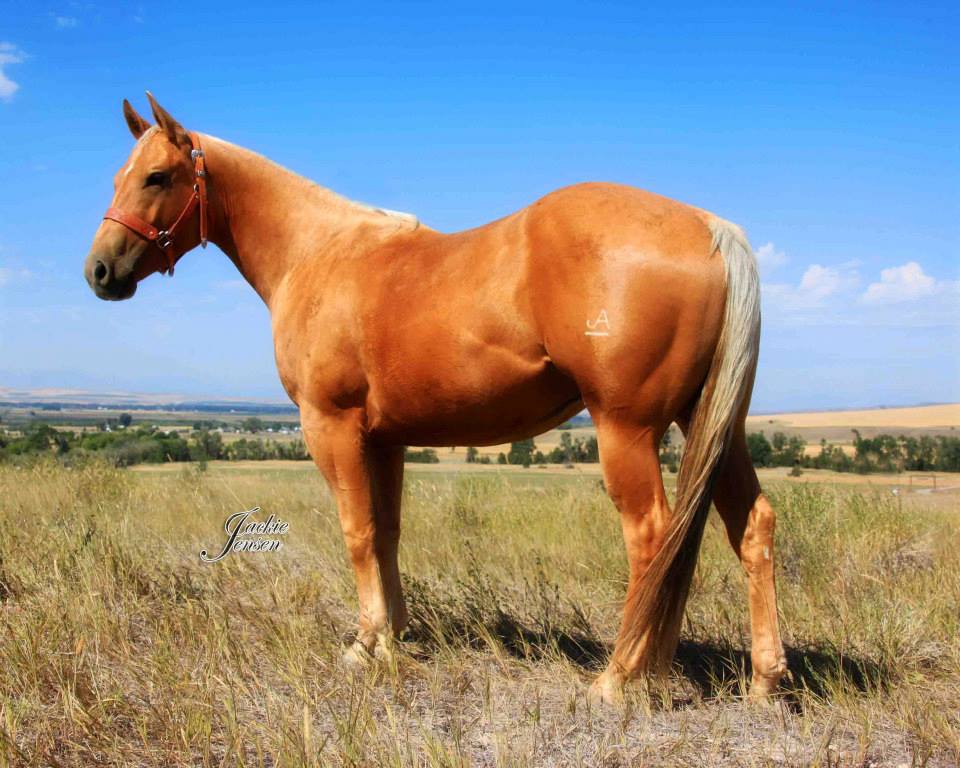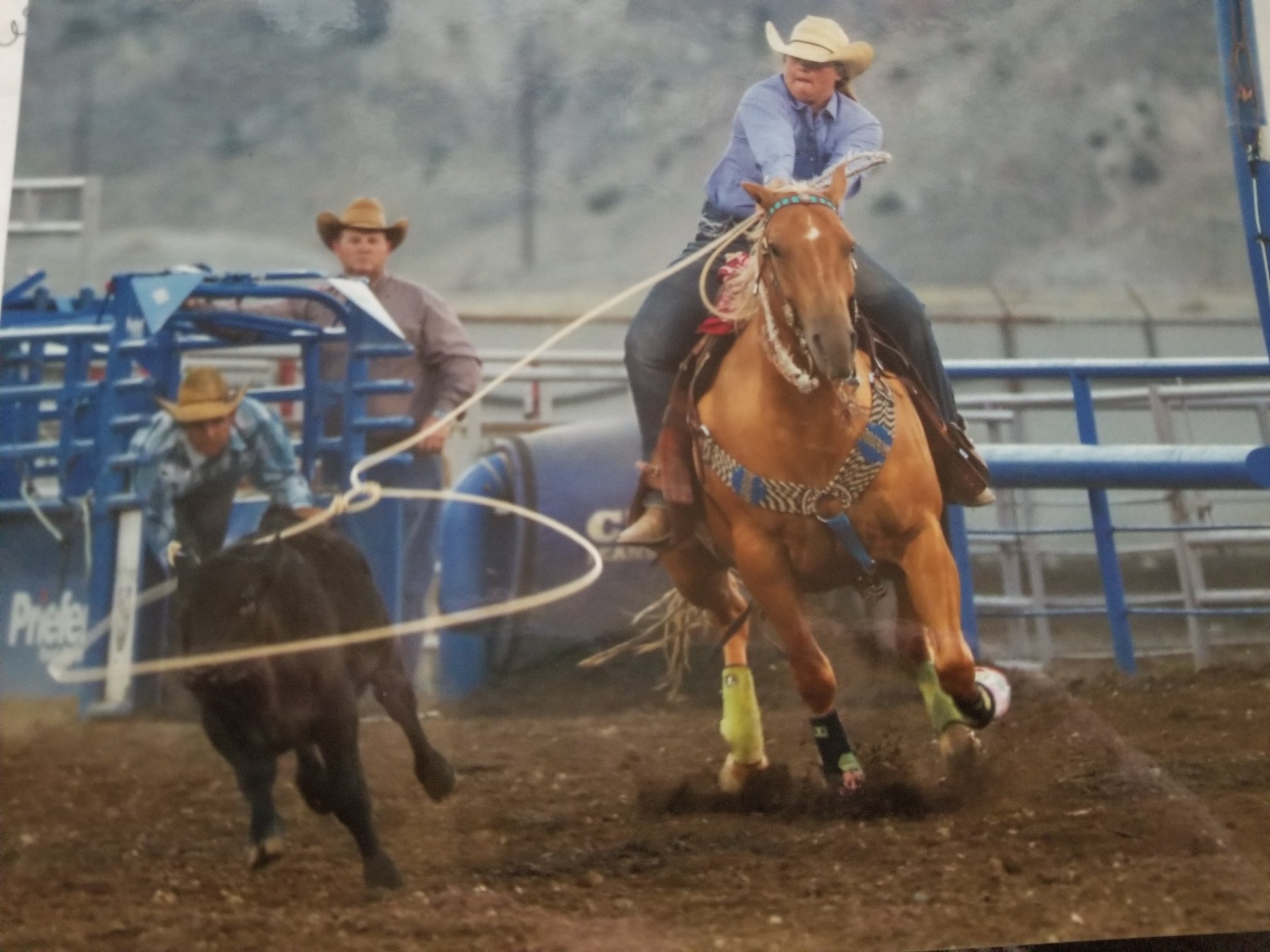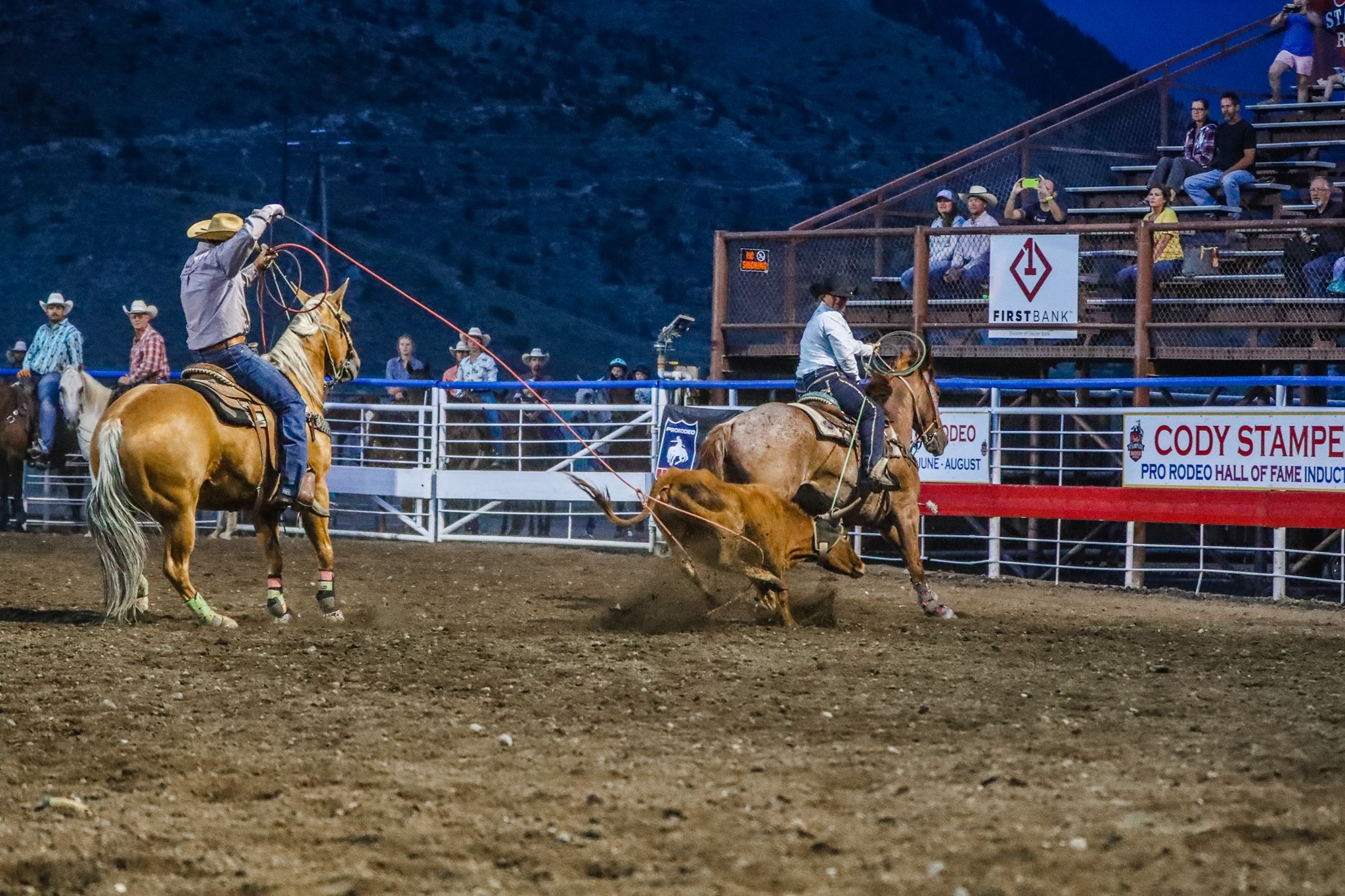 Bueno Chex
Bueno Chex Jr
Poco Veva
Zacharys Lena Chex
Lenas Sonny Boy
Dusty Lou Lena
Double C Dusty Lou
Chexs Royal Gold
Holly James
Holly Bubble
Scarlet Bubble
Royal Golden Doll
Royal Zan
Zan's Golden Doll
Panky Doll



Checks Royal Gold (aka Chuck Norris) is a 2010 Palomino Gelding and is an amazing little horse that makes us proud to swing a leg over him. He is so much fun to ride and rope off of. As a 3 year old I was winning open breakaway ropings on him and as a 4 and 5 year old Luke was winning rodeos heeling on him. He was Luke's good rodeo horse till he got hurt. He had to be turned out for 2 years to heal. We did get to use him for a few more years, however he just cant handle the hauling anymore on his bad knee so he is now retired and lives the good life. Truly a one in a million type of a horse and we miss having him in the trailer!
---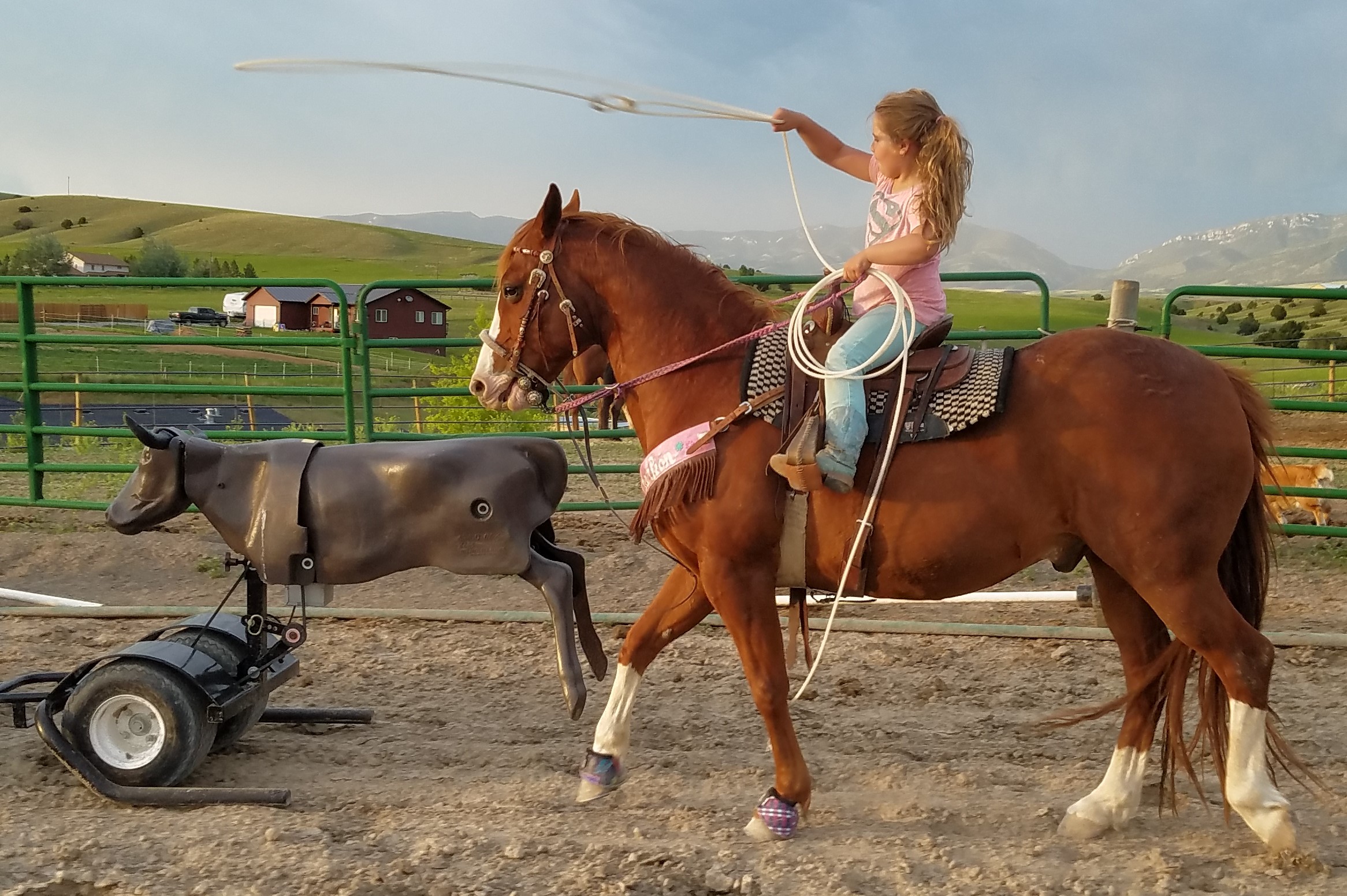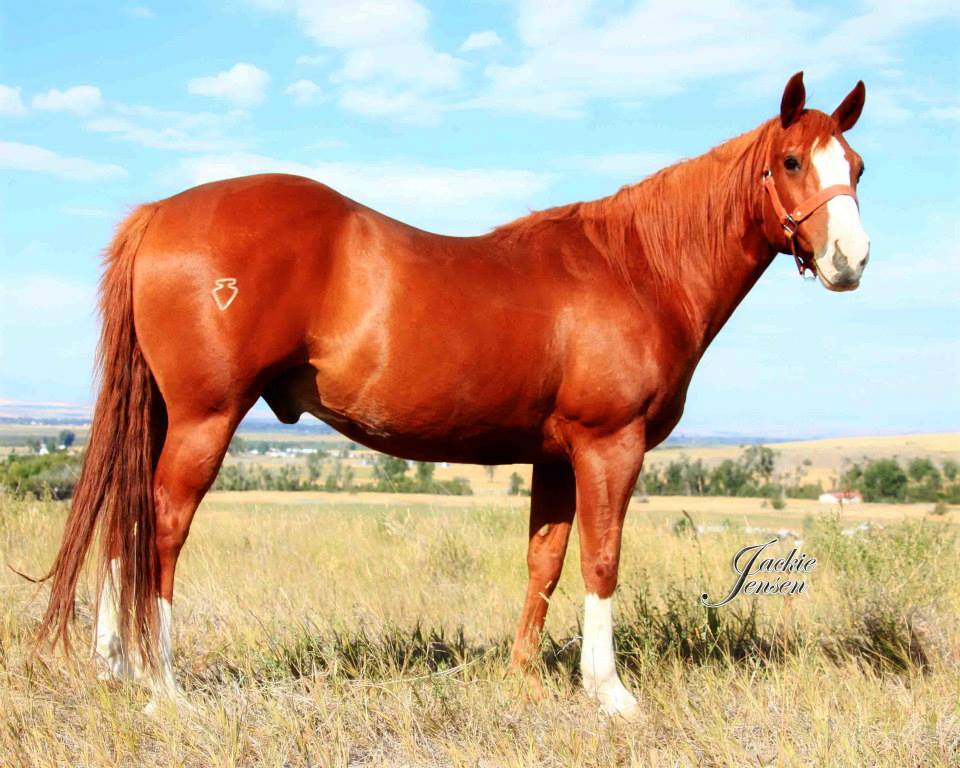 Snaps Demon
Snappy Bobby
Sweet Bobbie Bar
WDL Snappy Tom Bar
Unkown
HRH Revla We Trust
Unkown
Sussex Gringo
Top Bracket
Sky Top Bar
Sky Bar
Bear Creek Princess
El Nino Pep
Miss Nino
Nifty Petra 70
Sussex Gringo (aka Gringo) is a 1996 APHA Gelding. He is a top notch calf and Breakaway Horse. He is a NRA Qualifier and had won lot of money, prizes, buckles and more. He was my main man! I love roping off this little horse full of heart! This horse has improved me as a roper. He gives me is full heart and ability every time I ride him. He is my #1 go to horse when I have to breakaway rope or heel, or even go to a ranch rodeo on. Super athletic and cowey horse. Gringo now spends his time taking care of Heidi Jo and Lydia at the youth rodeos and spending his retirement days as a kids horse and occasionally a couple ranch rodeos and rodeos because we cannot seem to get off the old man! Lydia is now using Gringo as a trick riding horse and they are learning together this new adventure!
---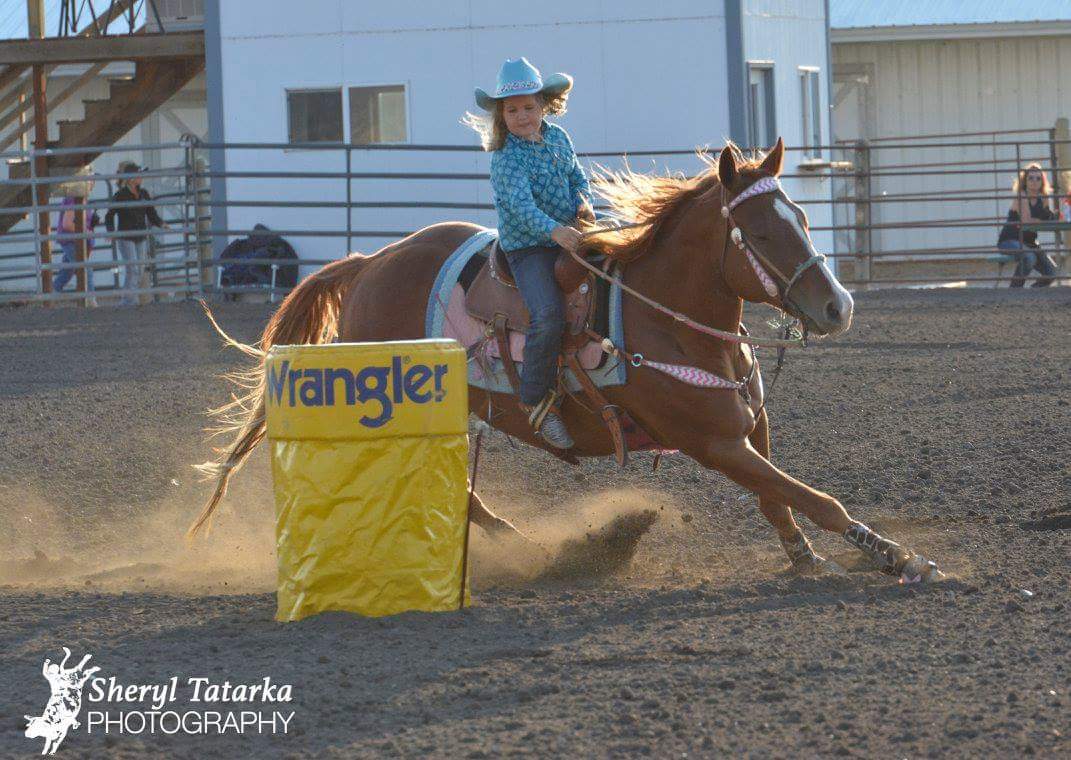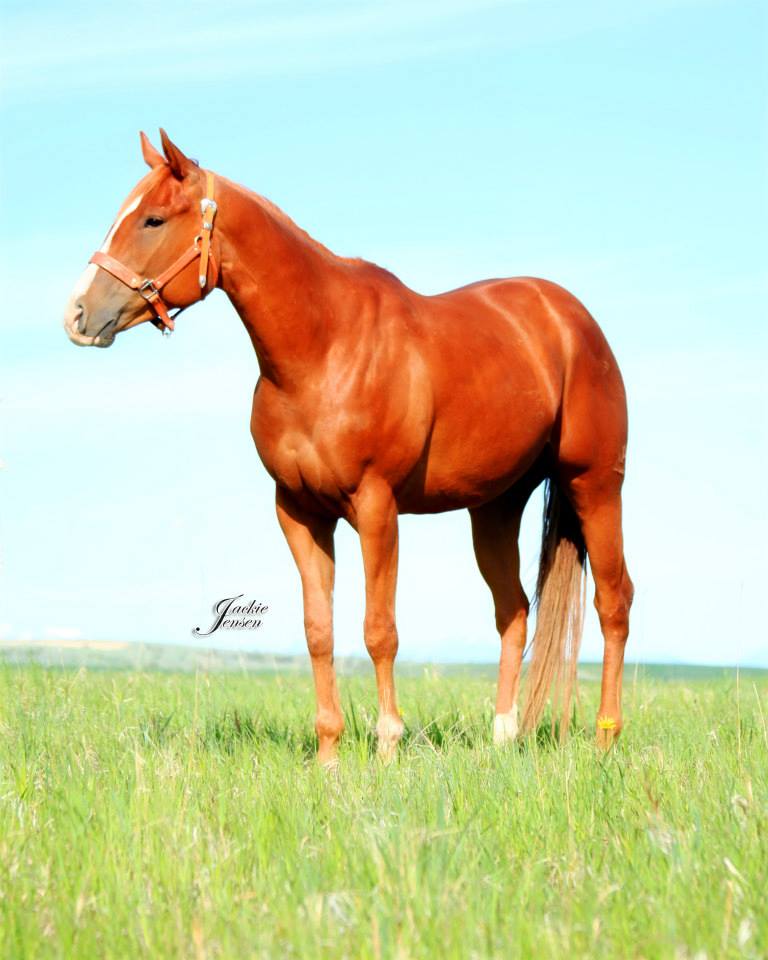 Streakin La Jolla
Mr Jess Perry
Scoopie Fein
Midnight Corona
First Down Dash
Corona Cash
Corona Chick
Dash to Corona
First Down Dash
Dash to Chivato
Fishers Favorite
Dash to Sunrise
Kaweah Sunrise
Blurrine Sunrise
BCR Misty Moon
Dash to Corona (aka Pickles) is a 2008 sorrel gelding and has a SI 92. Pickle's is our baby boy. I love this horse so much and will always come from the other side of the pasture just to meet you to get a pet. I have never had a horse with so much personality and talent. He was my first futurity colt and I am proud to have run him and both of us learning the game together. He has a career earnings of $10,000+ so far. Super athletic colt with lots of speed. He will go from making a 1D run to the next run babysitting a beginner rider. We do everything on him from running barrels and poles to roping to picking up bucking horses to pulling kids on the sled in winter. He is he 2018-2019 UBRC 2D National Champion too! He is a horse that is a once in a lifetime find and worth so much to our family! We hope to get Lydia on him this winter and they two become a winning pair!
---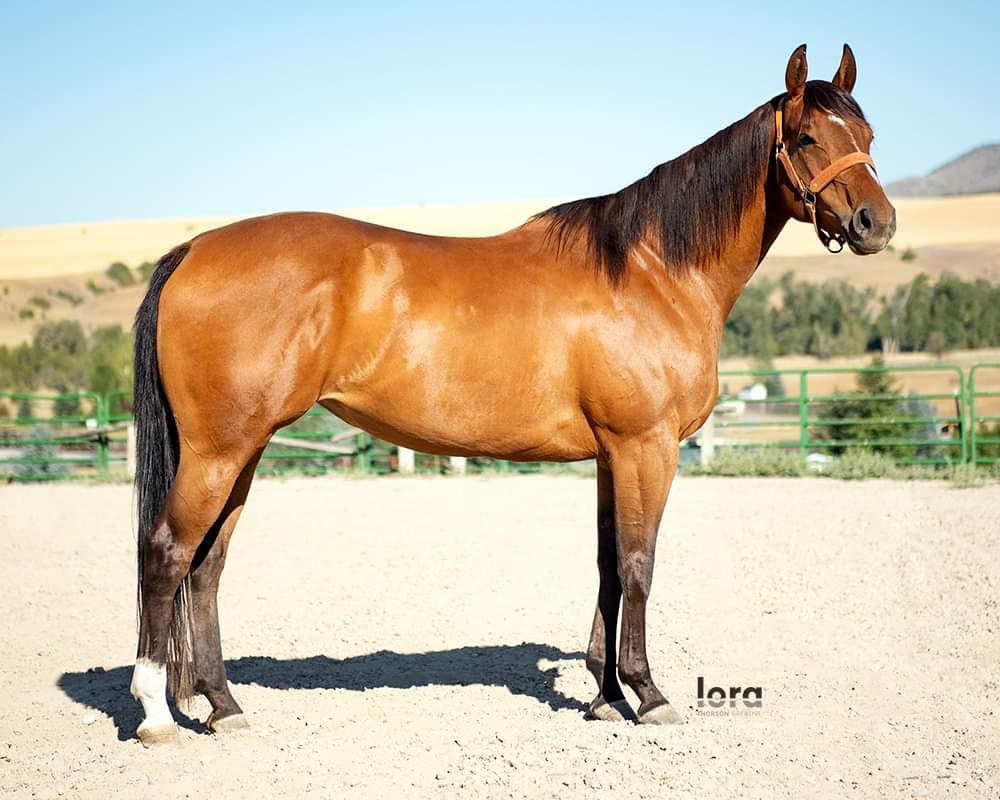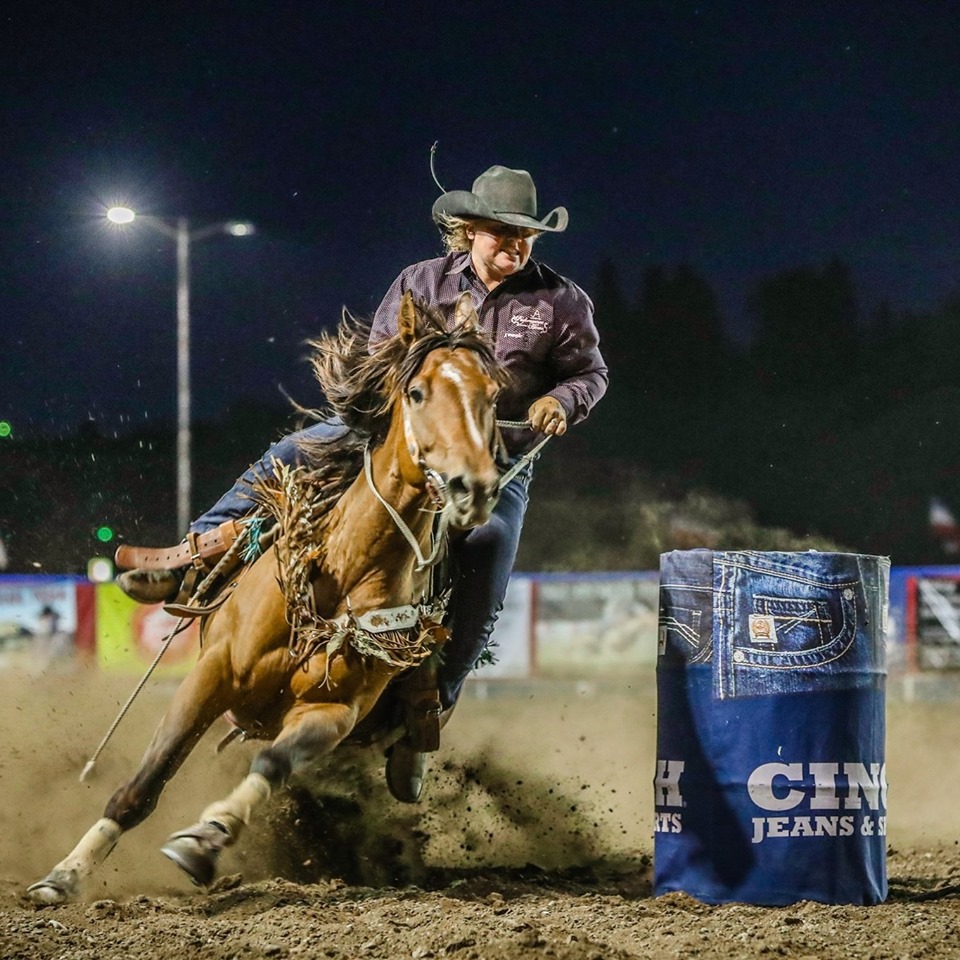 Streakin La Jolla
Mr Jess Perry
Scoopie Fein
Midnight Corona
First Down Dash
Corona Cash
Corona Chick
Dreaminofcoronanlime
Real Easy Jet
Regal Legacy
Twayna
The Field of Dreams
Exclusive Listing
Field of Glory
Sure Anna



Dreaminofcoronanlime (aka Penelope) is a 2014 bay mare. She is by Midnight Corona and out of my good 1D barrel mare The Field of Dreams. We are so excited about this mare that is why we decided to keep her. She is our first bay colt in a long time that we have raised. She shows us a lot of speed and athletic ability! I had a lot of fun running her this year and now ready to full on season her and make her a solid 1D barrel horse. Penelope is sure showing us lots of talent in the barrel pen. We cant wait to see what the future hold for this mare and our program!














---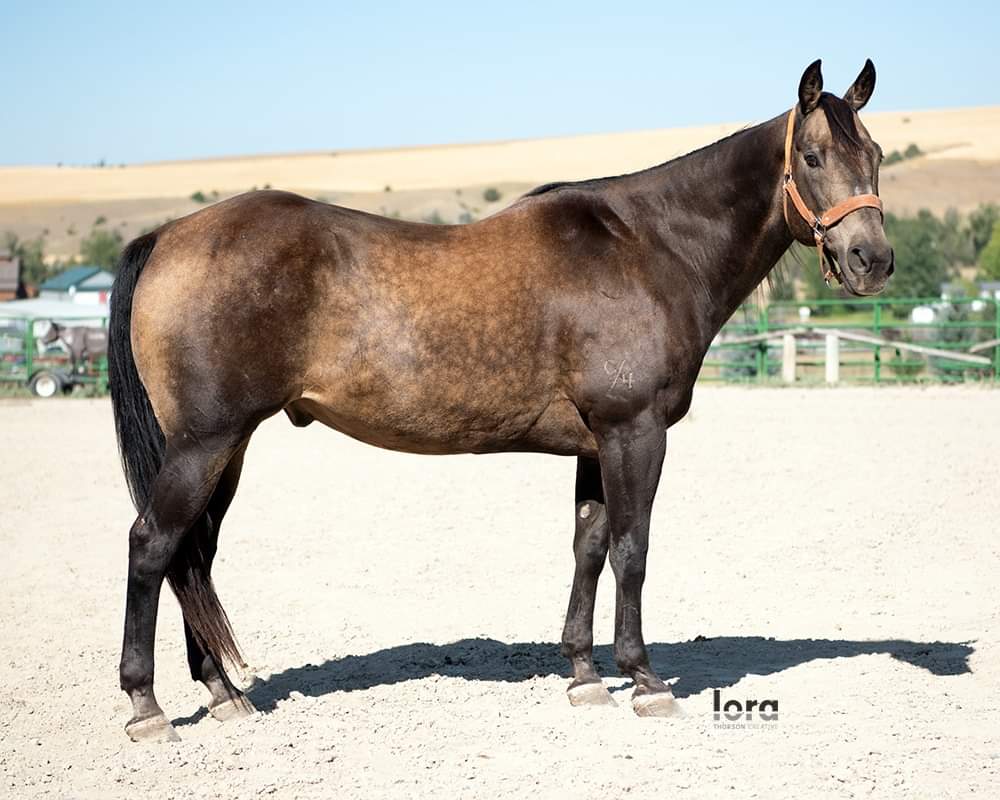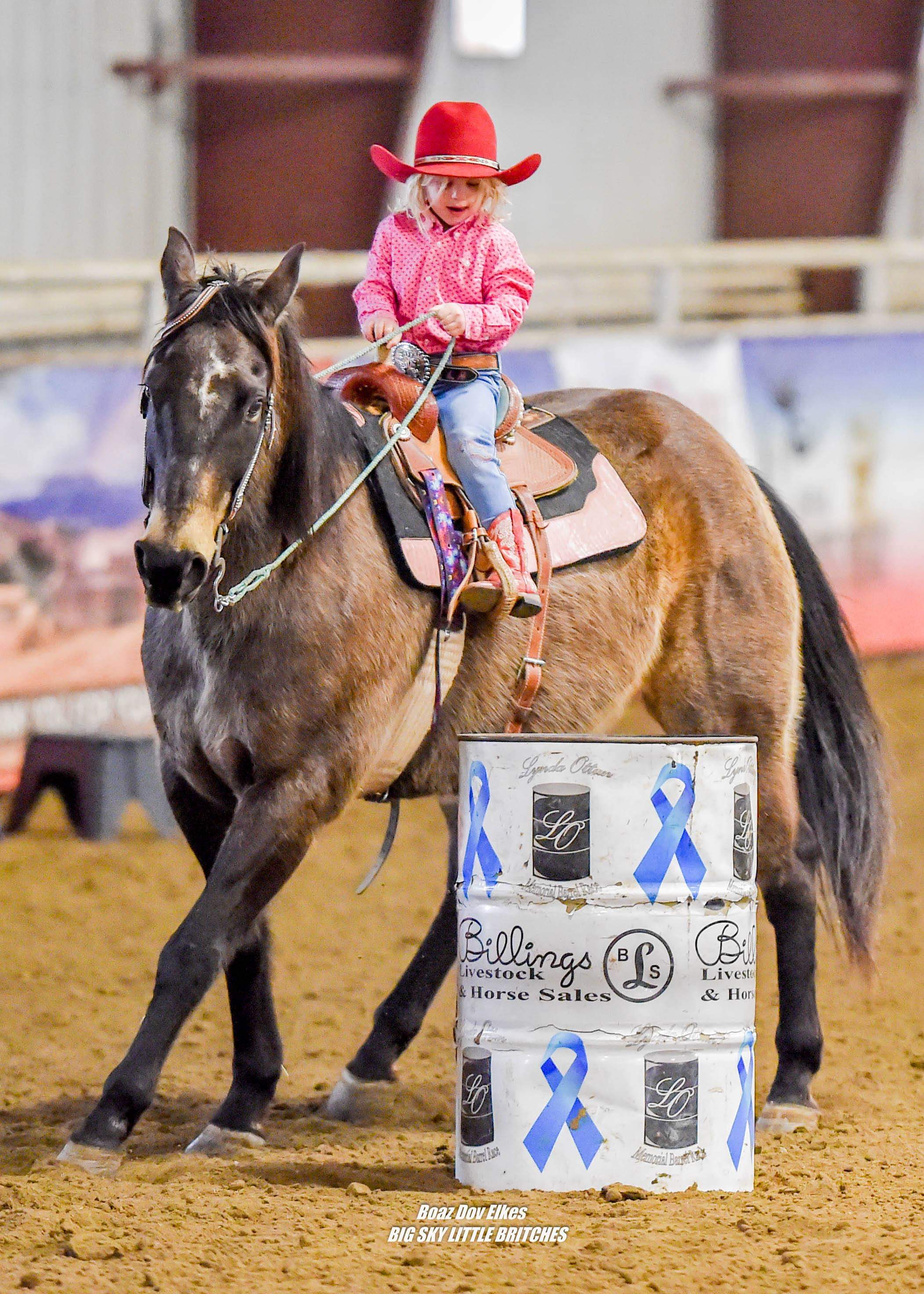 Dash for Cash
Miss N Cash
Doc N Missy
Dash N Doc Sage
Doc Bar
Doc's Steady Date
Steady Date
Tazmanian Cash
Silver Roan Bar
Bubbling Silver
Lady Bubbling
Cats Silver Touch
Kansas Cat
Cat's Touch
King's Touch

Tazmanian Cash (aka Smoke) is a1996 buckskin Gelding and is one super cool cat! We are so blessed that Collin and Tammy Frerck let him come live with us

and teach our girls how to ride and rope! We are so excited to have him part of our family! He is Lydia's main mount for Barrel, Poles, and Flag race! Lydia will not let

anyone else ride or touch Smoke.. He is her horse and will let you know that he is her horse too! Lydia and Smoke are two of a kind and are sure fun to watch. We couldn't

ask for a better horse for Lydia to learn from and grow up with! Smoke has helped Lydia win her first buckles and saddle. He truly is a once in a lifetime horse. We are trying to get Lydia to retire him so he can just live life and grow old and happy with us!

---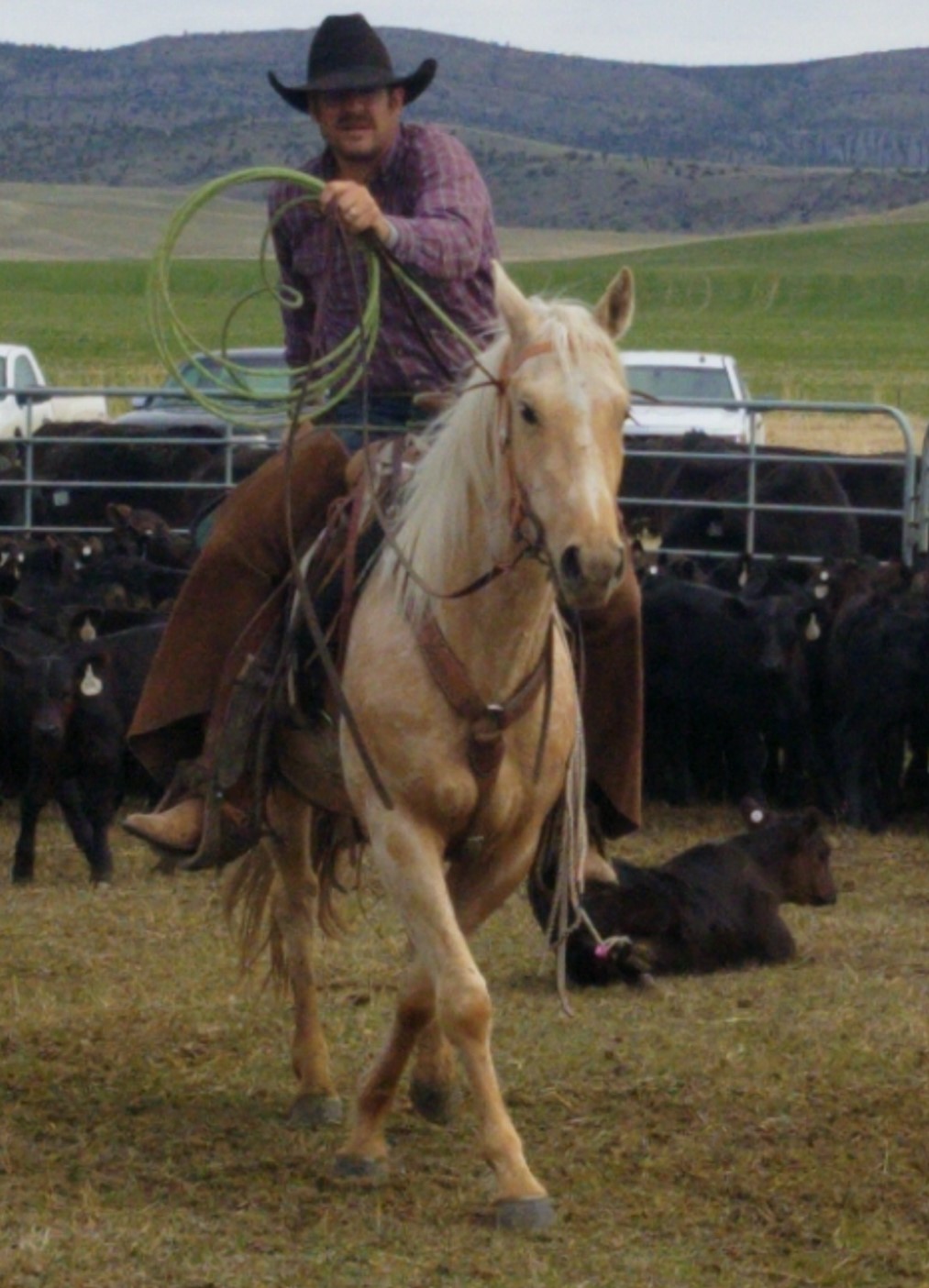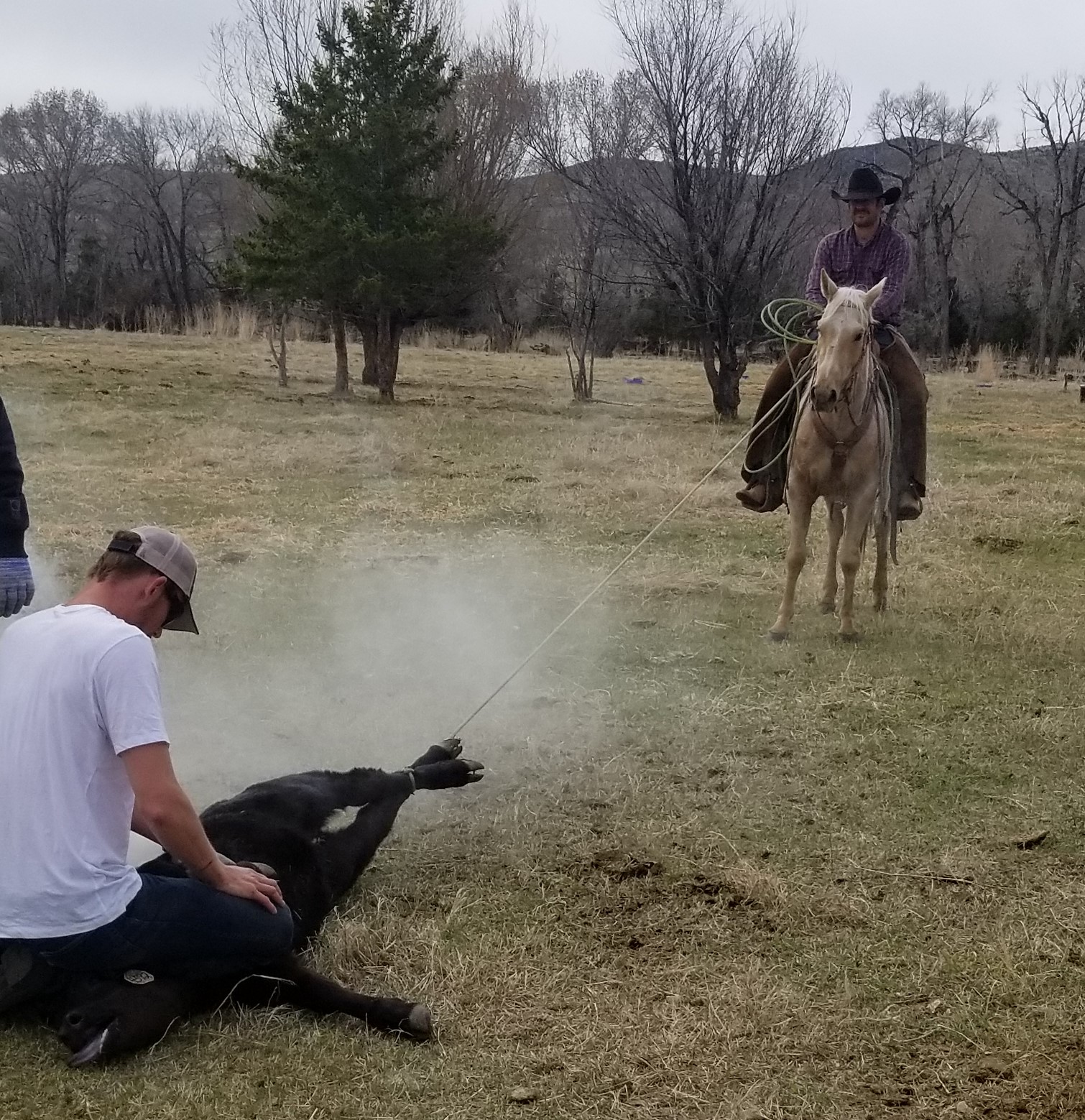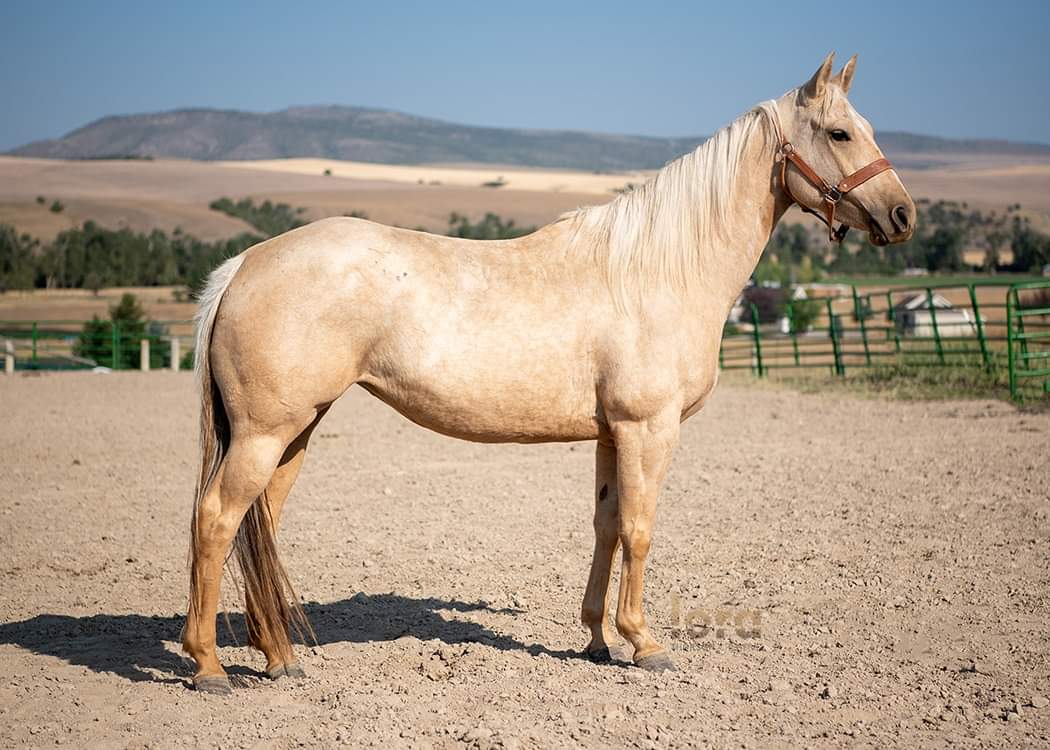 Sun Frost
Frenchmans Guy
Frenchman's Lady
Frenchmans Star
Dash Ta Fame
Dash With The Stars
Easy Winds
French Dancin Angel
The Signature
No Brakes Now
Timeto Brake
Brake Dancin Angel
Next To The Limit
Angels The Limit
Angel Flick




French Dancin Angel (aka Hell Bitch) is a 2016 Palomino filly. She is super athletic and quick on her feet. We are riding her now working on getting her broke then we will be taking her to the barrels and hopefully futurity her in the future. After we feel like she is proven enough we plan to put her back into our breeding program. She is bred very well and we cannot wait to see what she becomes. She is in training now and showing us lots of talent and athletic ability to be a nice barrel horse!









---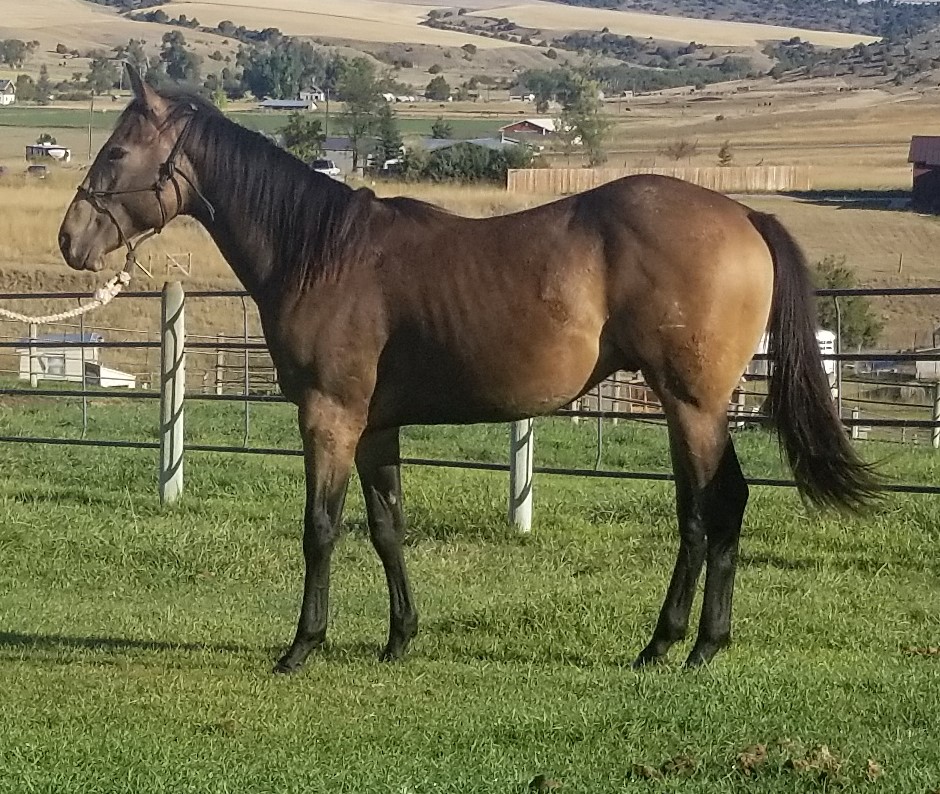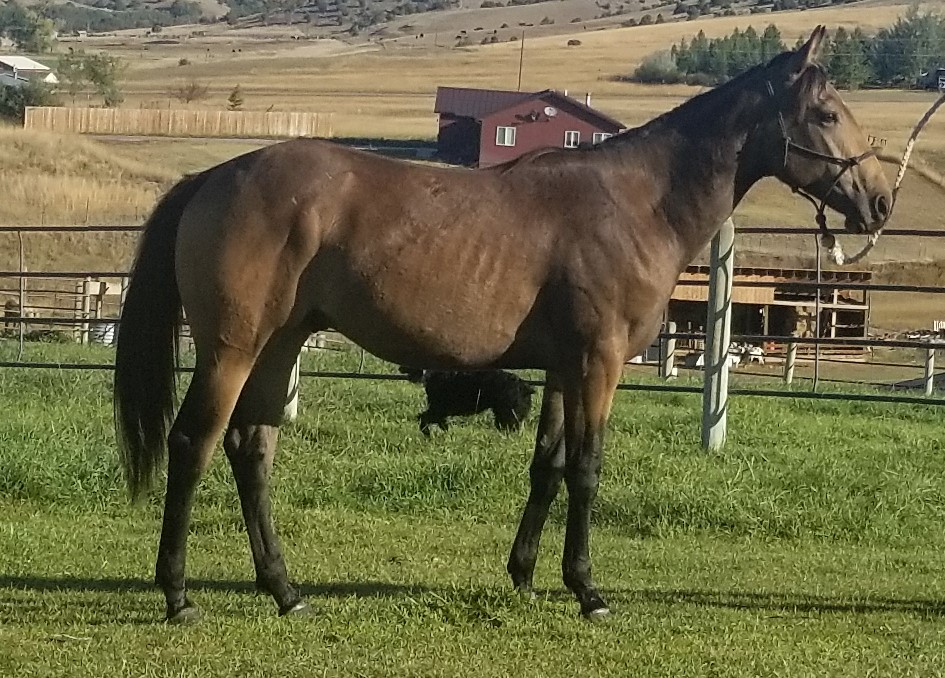 First Down Dash
Dash Ta Fame
Sunned Fame
Awesome Ta First
Switch OLena
Lena First
Steel First
Twisted Witch Doctor
Fire Water Flit

En Flano
Whichwitch S Witch
Twist N Fire 066
Mr Col Question
Miss Freckles Brown
Winning Chant
Twisted Witch Doctor (aka Clancy) is a 2018 buckskin gelded colt. We are so excited about keeping him in our program. He is very well put together and correct and straight. He has a great personality and is super kind colt. He will meet you at the gate just for a scratch. He is super athletic and showing lots of speed when running around the pasture. We cannot wait to see what he becomes for us though! He is eligible for Brn4d,VGBRA, California Futurity, Colorado Classic Futurity, and Future Fortunes. We plan on making him a barrel and rope horse!

---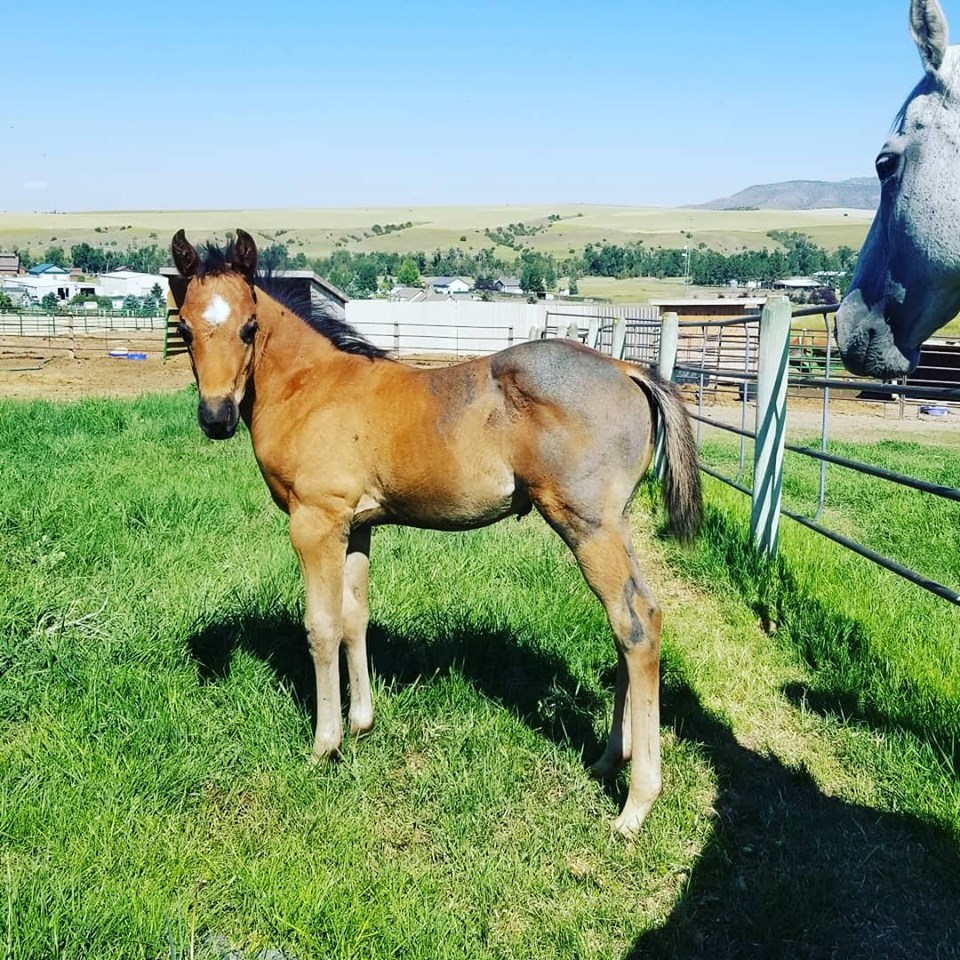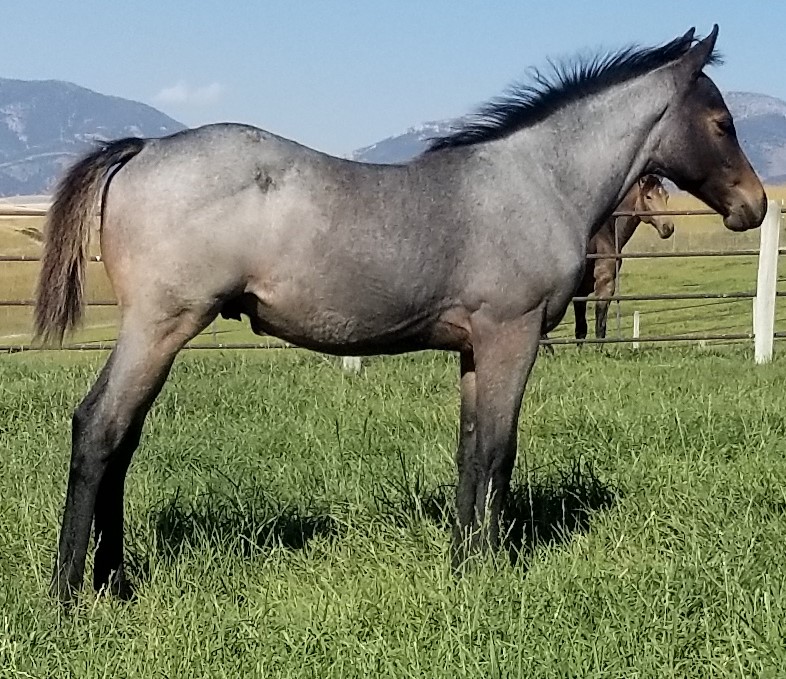 Streakin La Jolla
Mr Jess Perry
Scoopie Fein
Midnight Corona
First Down Dash
Corona Cash
Corona Chick
Jessdreamatmidnight
Chicks Beduino
This Too Shall Pass
Marys Moo Vin First
Smashed Pass
Prince Smashed (Easily Smashed)
Wake Up Little Blue
Reds Polecat

Jessdreamatmidnight (aka Mowgli) is a 2019 blue roan colt. He is my golden baby! He is by Midnight Corona and out of my good grey mare, Sammy, I ran barrels on. We are so excited to have him and keep him as our own. We cannot wait to see what he becomes for us and our program!

---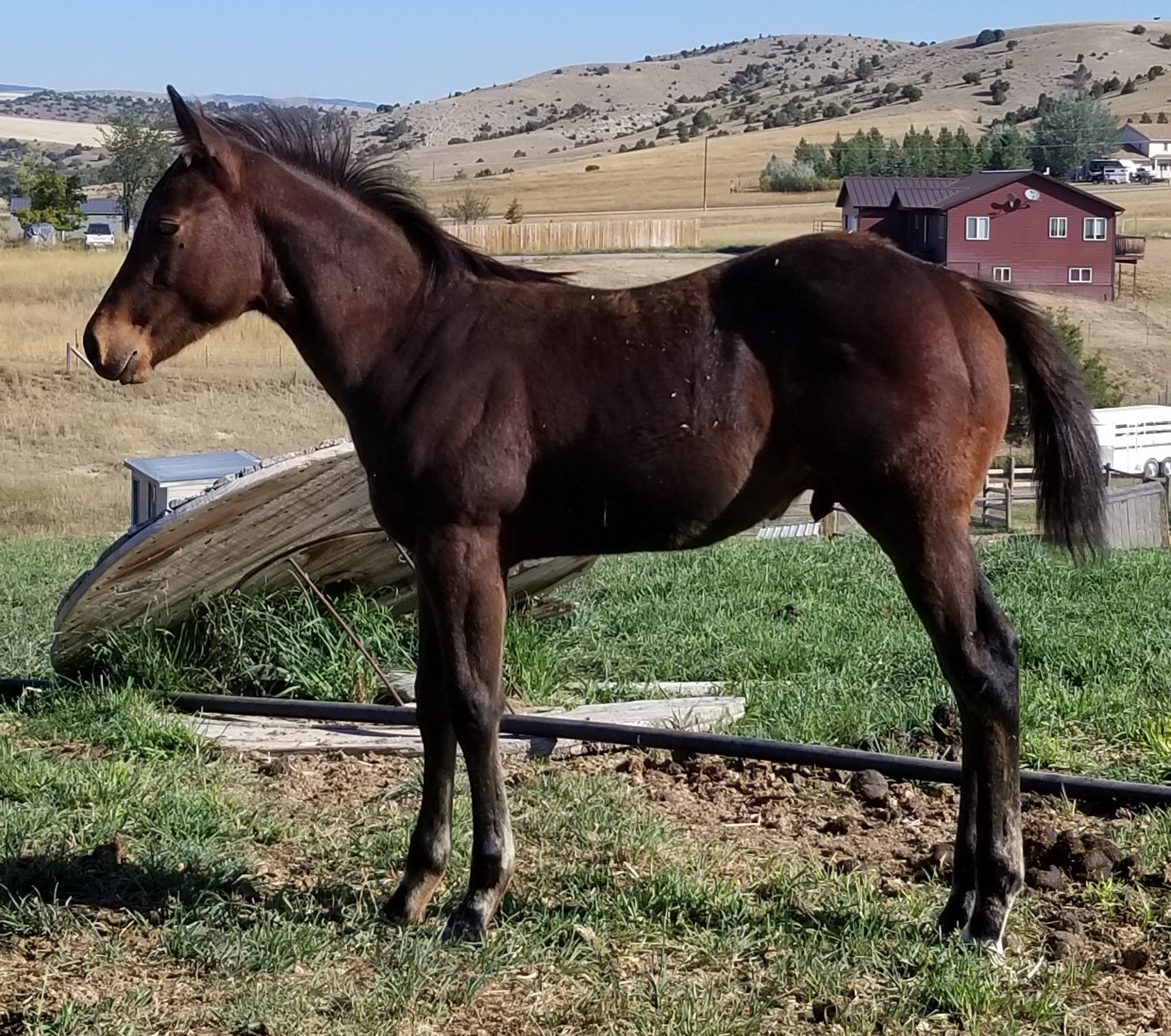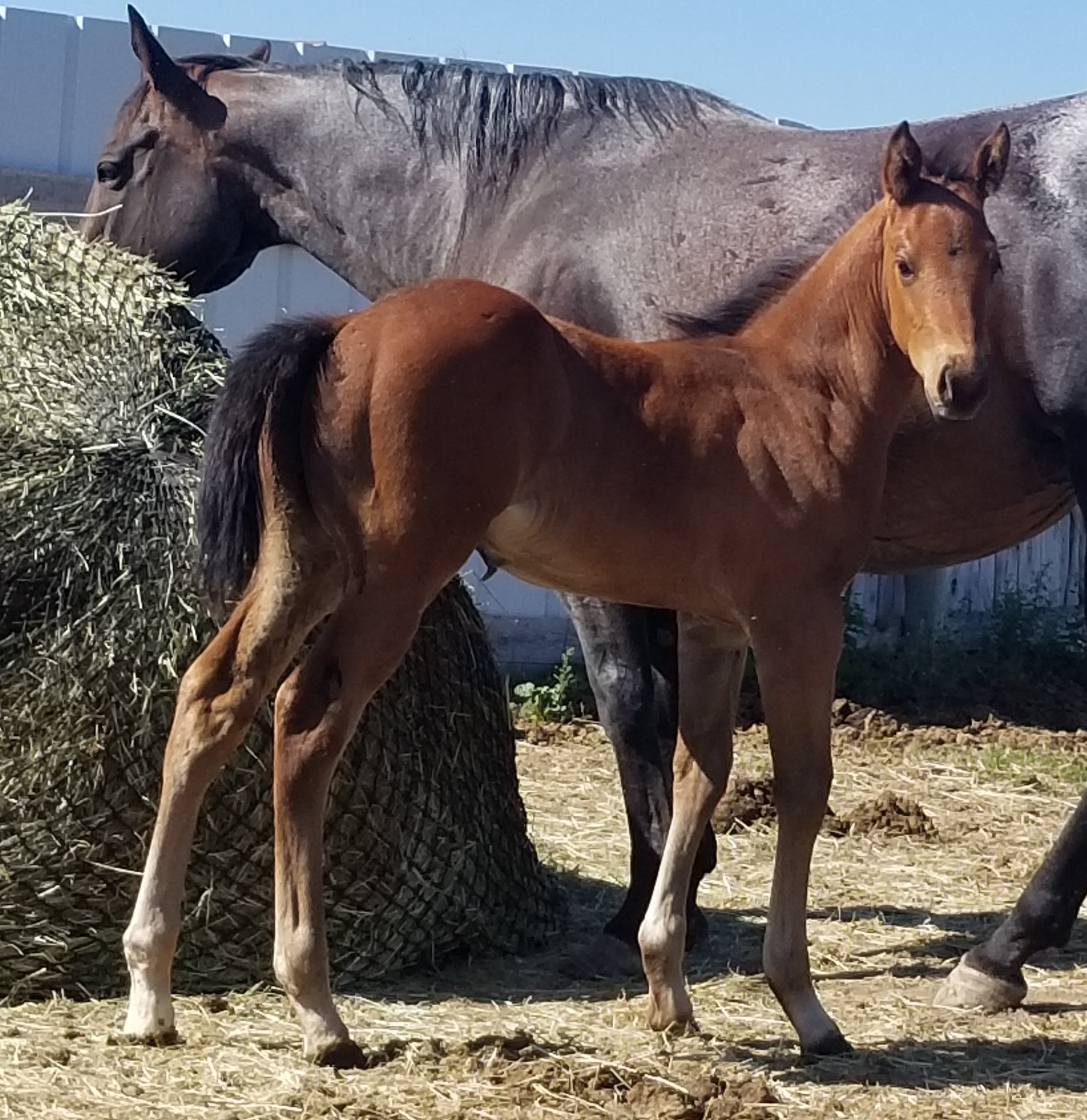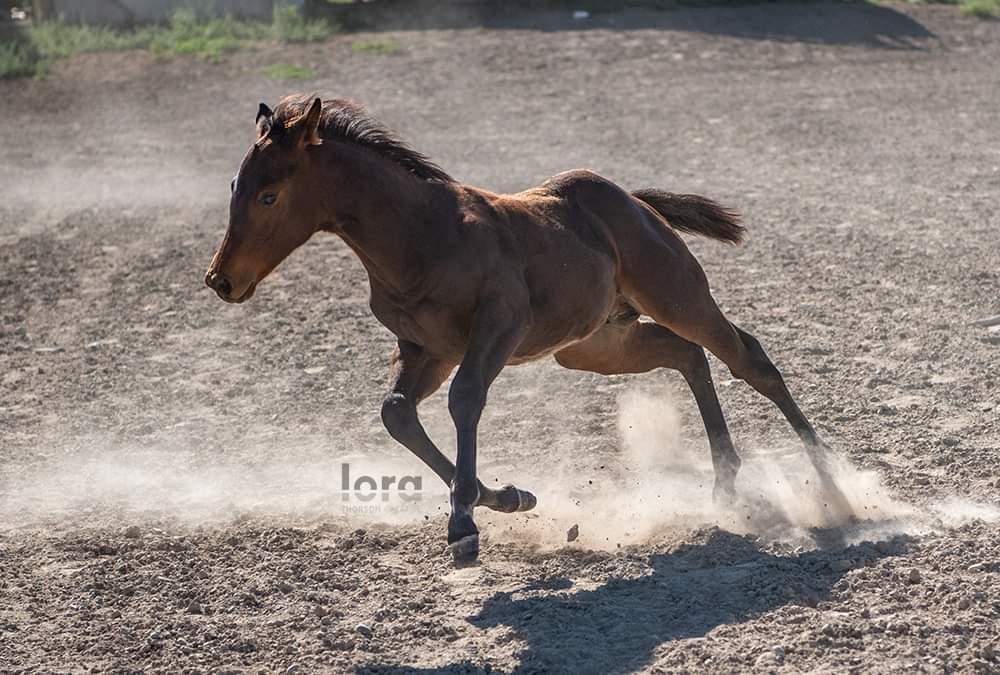 Streakin La Jolla
Mr Jess Perry

Scoopie Fein

Midnight Corona

First Down Dash
Corona Cash

Corona Chick

Cashedinatmidnight

Dash For Cash

Bet The Cash

Take You On

Miss Easily Cashed

Prince Smashed
Wake Up Little Blue

Reds Polecat

Cashedinatmidnight (aka Beans) is a 2019 brown stud colt! Showing lots of athletic ability and talent when running around the pasture! We are excited to keep him for Lydia. They just love each other and truly are a pair! He sure has the looks and talent to be it! Beans did loose his right eye when he was a yearling, but it doesn't phase him at all and couldn't even tell he lost it.

Sire side: Midnight Corona SI 101 is a proven sire of Speed, Disposition, Cow Sense and Athletic Ability! Sire of 21 AAA with earnings of $329,424 on race track.

He has barrel winners, rein cow horse winner, and outstanding ranch horse and arena prospects. Midnight Corona is by Mr Jess Perry SI 113. Mr Jess Perry was

named AQHA Racing Champion 2-Year-Old and Champion Two-Year-Old colt in 1994. During his racing career he won 12 of 21 starts and earned $687,184. He is

1 of only three Quarter Horse Stallions to sire the racing earners of more than $52 Million. He has sired 138 stakes winners and 156 stakes placed horses including
9 running champions. Mr Jess Perry has been the #1 broodmare sire since 2013. Corona Cash SI 101 and is a 4 Time Champion with earnings of $1,500,00

and a winner for the All American Futurity. She had 19 wins in 32 races and sold for $230,000 at age of 16 year old for a broodmare. Corona Chick SI 113

and was a Champion 2 Year Old and Champion 3 year old. She also got the Champion Broodmare of the Year title too. She had 15 colts in her career and

they averaged $372,700. She is also the dame of Corona Cartel ($557,142).

Dam Side: Miss Easily Cashed is Kindhearted, gentle, easy to catch, trim, and handle. She passes on all these great traits to her colts. She is the Dam to

This Too Shall Cash SI 86, Stakes Places, and AA. Annie is also a 3/4 sister to my dad's good head horse Prince. He is a Big Sky Region Champion Head Horse

and a barrel futurity winner of $10,000. Annie is also a 3/4 sister to my gray mare (Smashed Pass) that consistently runs a 17.4 to 17.6 on a standard pattern
and a solid 1D horse. She is by Bet the Cash who is by the great Dash for Cash! Dash For Cash ran 25 races in three years and earned $507,688 during

his career – years before Quarter Horses were earning million-dollar purses. He was the first horse to have consecutive victories in the Champion of

Champions (1976 and 1977). Dash For Cash sired 751 winners, with 135 stakes winners, 880 earners of Registers of Merit, 112 earners of Superiors and

16 world champions. His offspring has earned over $37,386,838. Easily Smashed is by the legendary Easy Jet who is a American Quarter Horse Hall of Fame inductee.
---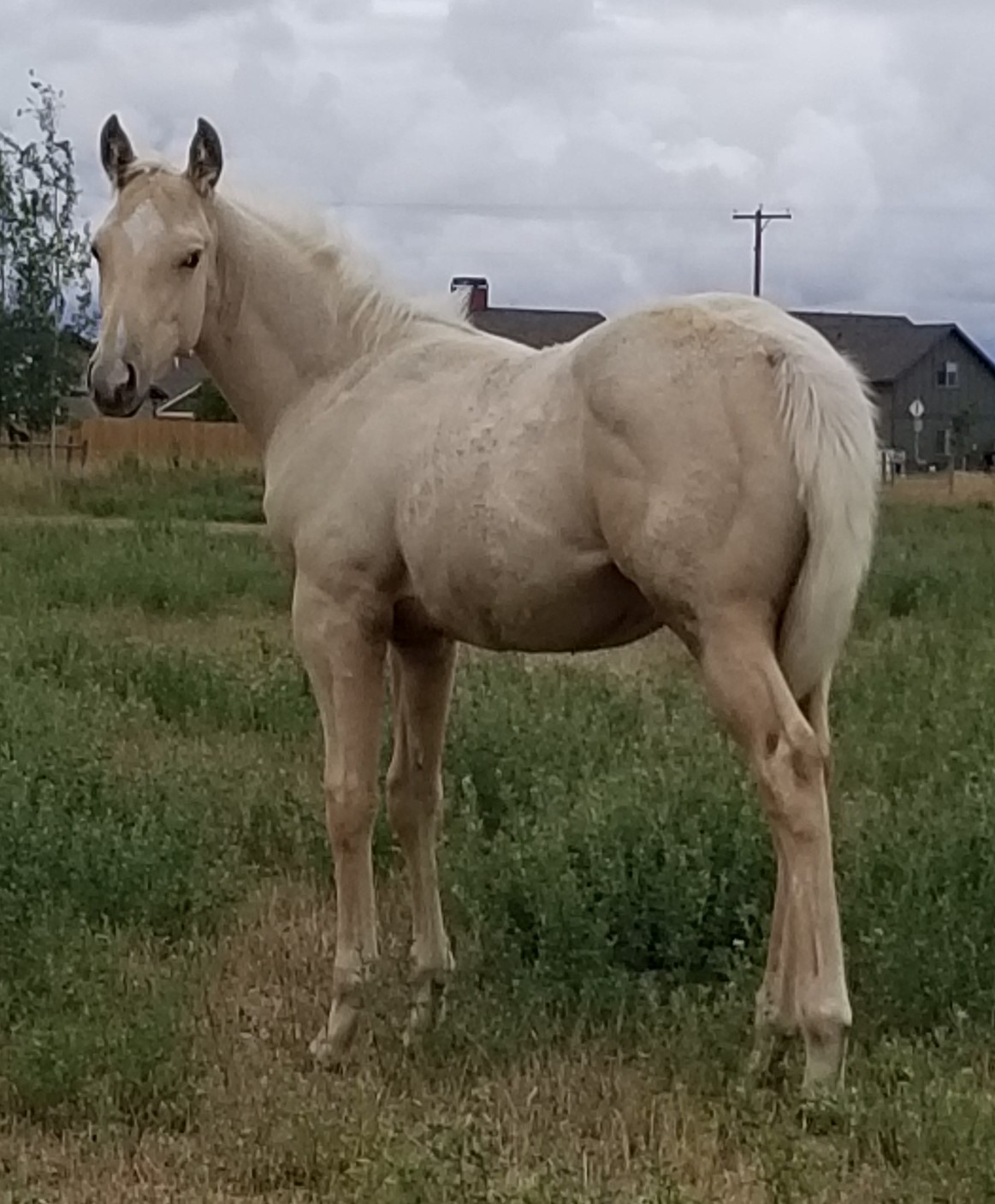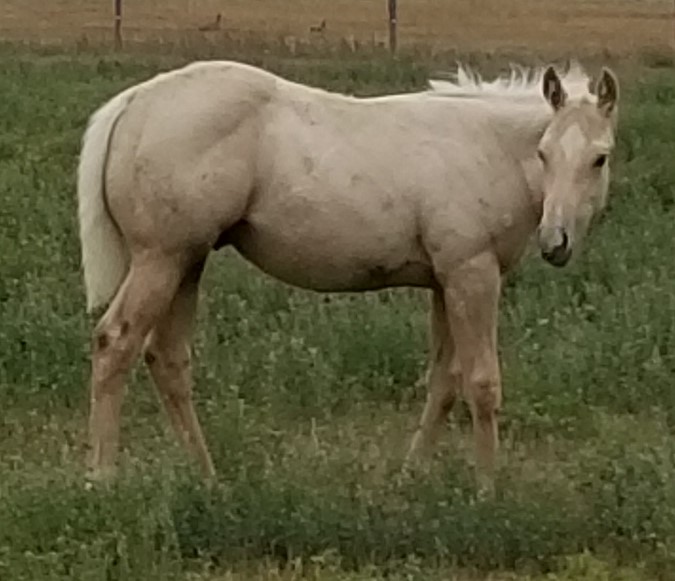 Streakin Six
Streakin Four Sixes
Samantha Wrangler
Turn Again Frenchman
Frenchmans Guy
Frenchmans Lil Topaz
Frenchmans Topaz
Toasted At Midnight

Mr Jess Perry
Midnight Corona
Corona Cash
Catchingmesomecornas
Dash To Chivato
Dash To Sunrise
Blurrine Sunrise (Murr The Blurr)

Toasted At Midnight (aka Toast) is a 2019 palomino stud colt. He is a big stout colt that is straight and correct conformation. This colt can fly, boy can he run. He is going to be a super nice performance horse that can run and amazingly talent and athletic ability. We are excited about him and cannot wait to see what he will become for us!

---
Sun Frost
Frenchmans Guy
Frenchman's Lady
Guys Keepin The Fame
Dash Ta Fame
Disarray
Rimes Bouquet
Famous By Midnight
Mr Jess Perry
Midnight Corona
Corona Cash
Catchingmesomecoronas
Dash To Chivato
Dash to Sunrise
Blurrine Sunrise
Famous by Midnight (aka Sandy) is a sorrel but very flashy 2020 filly. She is bald faced and 4 white stockings filly that is super sassy and very athletic. Boy can she fly when running with the other colts out in the pasture! We are excited to have her a part of our program and to be one we raised. Hopefully she brings us great joy to our family!
---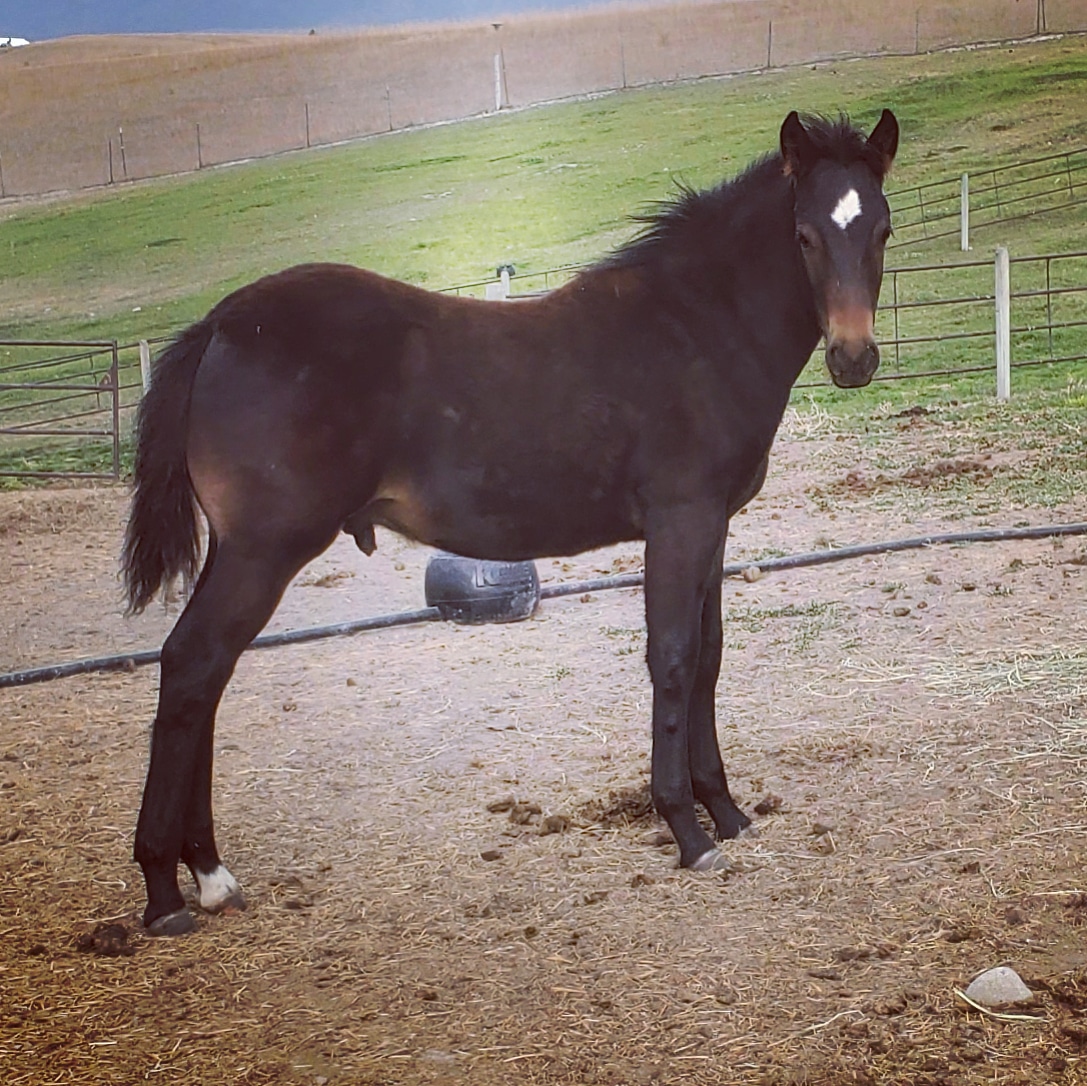 Jethro is a 2020 Midnight Corona X Gypsy Vanner cross brown almost black gelded colt that we raised! He is stunning to look at and boy is he built like a brick house. He sure knows he is cute too. Jethro defiantly likes to strut around the pasture. We cannot wait to see what he becomes especially having a Midnight Corona draft cross. We are super excited for this colt and have high expectations for him!
---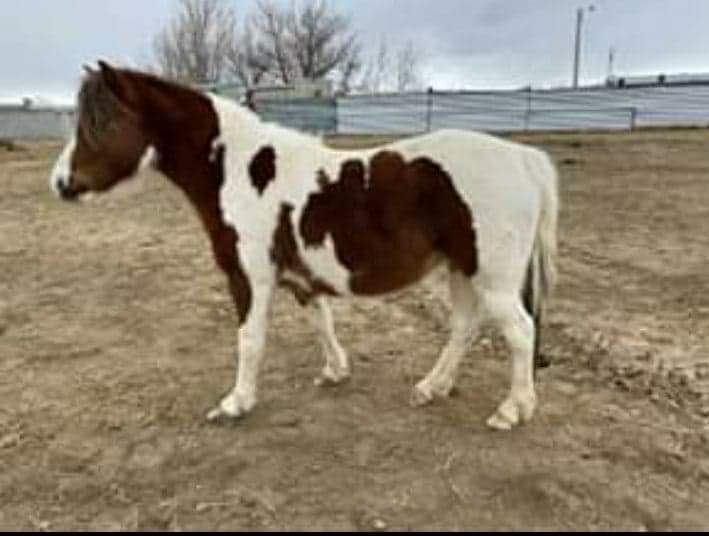 Dixie is a 2015 brown and white paint pony mare. She is thick and stout too! She is super gentle and kind! Dixie is super broke and just getting the miles on her. She is gonna be in training to be Lydia's next trick riding pony. She has been started in it and doing very well. Hopefully you will see her and Lydia in the future at rodeos!
---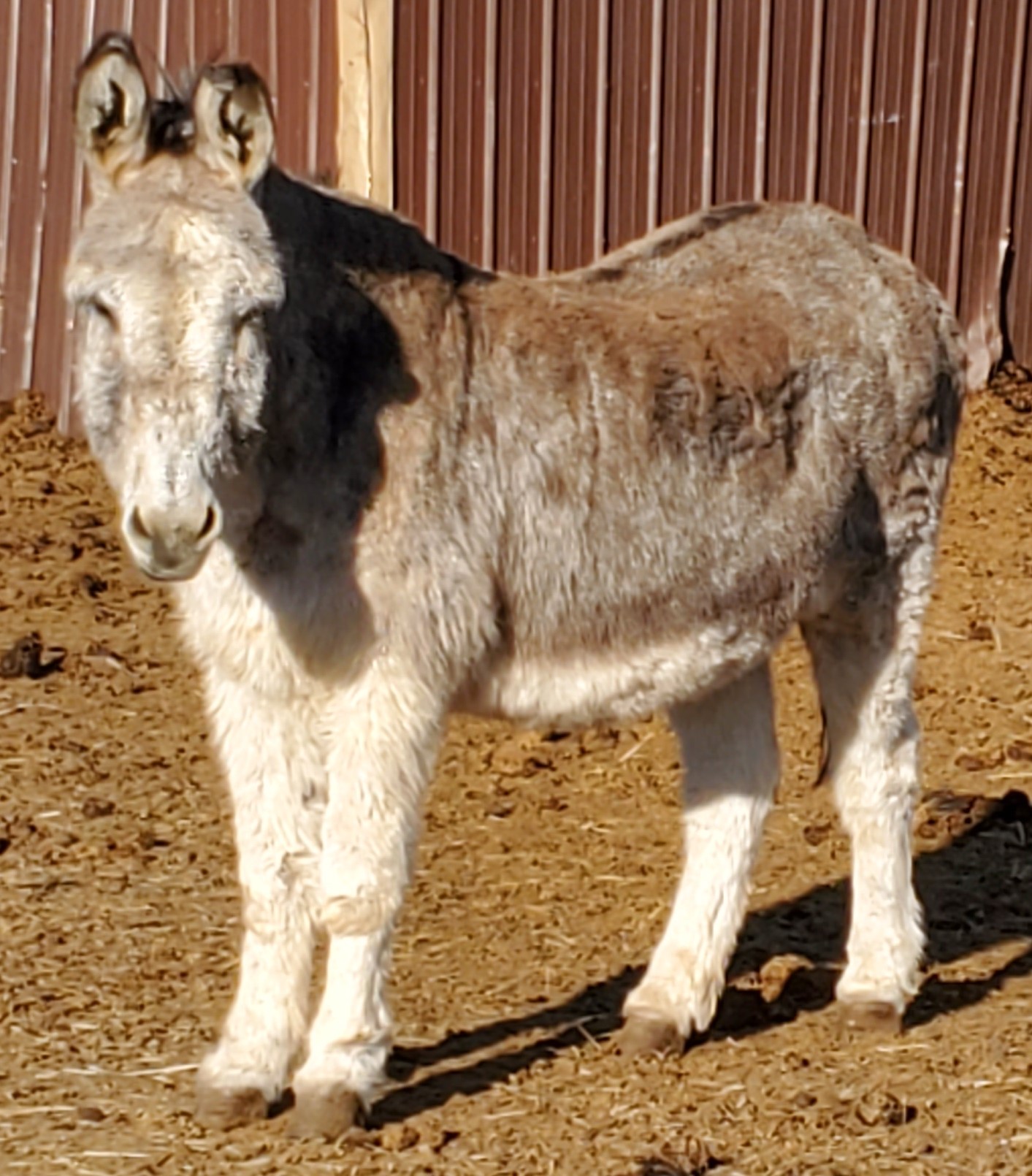 Donkey is a 2006 model and is our mascot of the place. He is always there to tell us when chores need to be done and loves the goats. Donkey as been in a few films too, so he thinks he is pretty famous. We sure love this big long eared guy!

---